It's a fully packed newsletter this time with news on how SCO has been spending its time looking into ways to support smaller cinemas going forward. In the newsletter we will cover:
New free online tool to Quality Check (QC) and audio level check DCPs.
EDCF (European Digital Cinema Forum) annual update 2020. Get your FREE pass now (Limited places)
SCO initiative to help small cinemas with minimum guarantee (MG).
Upgrading your Server/TMS/LMS hardware on the cheap.
FREE DCP quality check and Audio Analysis tool
As part of our "doing more with less" push, SCO has been working with D-Cine.net on implementing a free tool that will help save costs and improve your presentations. This free online tool helps ensure cinemas and cinema suppliers can produce well constructed DCPs that play on as many system as possible and also conform to audio level requirements for pre-show.
Typically this process can be expensive as external entities are usually required to achieve this type of conformance. Utilising this tool, an exhibitor can feel safe in that if supplied a DCP from an unknown source, if the DCP passes the QC process this tool gives them, potential problems are greatly reduced.
The tool utilises the QC tool called ClairMeta, that adopts newly released SMPTE RDD 52 specifications to ensure a DCP will be compatible with as may DCP-screens as possible.
It allows the user to make comparative audio analysis utilising the Cinema standard Leq(m) loudness standard and more typical LKFS standards in broadcast. The tool is specifically designed to deal with audio levels to ensure they meet acceptable and constant levels between content. (No more adverts with audio levels going up and down between them).
Examples where this tool could be used are:
Producing your own cinema advertising or pre-show content, this tool will help achieve quality results
If running your own small film festival and accepting content from non-typical DCP creation sources, you can mandate DCPs be tested and pass the tool before they are submitted, shifting the responsibility of getting content to work onto the producer.
At this stage we are ready to accept users who would like to give it a try as it comes out of Alpha into its Beta release. Please contact me if would would like to set up an account to access the tool.
EDCF annual update 2020 - online
The European Digital Cinema Forum (EDCF) is having their yearly conference online and this year attendance is FREE. As part of my work on the online QC tool and ClairMeta as mentioned above, I will be presenting. The topic is ClairMeta and SMPTE RDD 52 and how it can be used.
It is important to note, the Seminar in Australia/Sydney/Melbourne time starts at midnight on the 10th and goes for 3 hours (til 3am). This is not very friendly to our part of the world, but you are welcome to attend by clicking on the registration link below.
EDCF has confirmed that it will make the seminar available on the internet at a later date.
If you are interested, I recommend you register ASAP as there are only 150 spaces.
Registration link: https://attendee.gotowebinar.com/register/3513706419502418448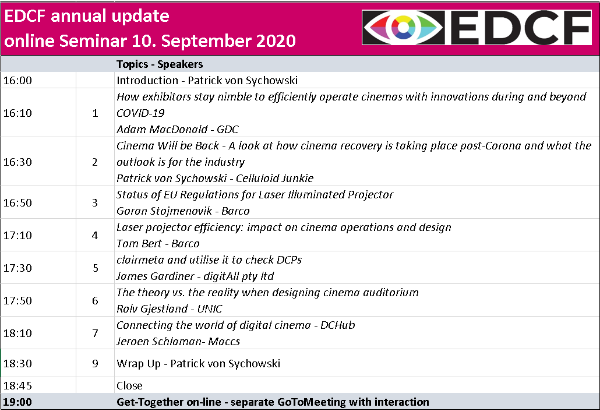 Helping small cinema survive the crisis
With the social distancing and cleaning requirements, it has never been tougher for smaller cinemas. Staying open is more about treading water and supporting the community than having a commercial business. It is at these times when our community must come together to ensure as many cinemas survive as possible.
One of the issues smaller cinemas in particular have at this stage is that some distributors still require high minimum guarantees (MG). Even if treading water, the MG chain around the neck of a small cinema is enough to make them sink in this environment.
Here at SCO we would like to encourage better handling of these conditions by improving conditions for both distributors and exhibitors so the compromise is more agreeable to both parties.
In order to encourage distributors to reduce their MG for smaller cinemas, SCO is offering to supply a digital delivery service at no cost to those distributors willing to pass on their cost savings by reducing their MG.
At this stage SCO would like to get feedback from small cinemas who would like to join this effort. I hope to follow this path going forward:
Small cinemas register their interest.
Registered small cinemas do a test download from the SCO servers to establish viability and capability of the site to perform a digital download.
Once a number of sites are established to proceed, SCO will approach distributors to reduce the MG for sites connected to this initiative.
It is hoped this initiative can bridge the gap for some smaller cinemas and also establish better conditions going forward beyond COVID.
Cost effective TMS/LMS hardware upgrade
As the VPF is now over, a number of smaller cinemas have voiced their preference to move to alternate TMS software. Unfortunately for many a hardware upgrade have been required to make this shift. Recently I have been working on a CineTechGeek video that covers how to upgrade to more suitable hardware at a very cost effective price. Unfortunately the video is not yet available but will be posted in coming days.
Please keep a lookout on the CineTechGeek YouTube channel. https://www.youtube.com/user/cinetechgeek and subscribe so you will be notified when the video is released.
SCO Deals and sale opportunities
The offer of FREE CRU drive housings to replace failing ones is still on.
GDC SX2200 DCI player (suitable for any SDI based S1 projector or S2 with SDI interface) has been claimed.
Contact me if interested in any of these great offers for the SCO community.
Wishing you all the best with your cinema.
James Gardiner
Founder, Small Cinema Owners Association
james.gardiner@smallcinemaowners.com.au
mob: 0412997011
Link to past newsletters: https://www.smallcinemaowners.com.au/category/newsletter/