SMPTE DCP has been a long time coming with the transition well underway in Australia. In this newsletter we will cover what you need to know about SMPTE DCPs and how it affects you as an Exhibitor or Distributor. (Distributors may wish to jump to the relevant section of the newsletter)
We also have a giveaway at the end.
This newsletter will cover:
Current state of SMPTE DCP in Australia
The process exhibitors need to take to achieve SMPTE DCP certification
The benefits to exhibitors with SMPTE DCP
The extra work needed for Distributors to implement SMPTE DCPs
Standards compliance is not distribution certification (Very important variation. SMPTE DCP comes with some warts)
The CRU-DX115 DC removable hard drive carrier giveaway.
Australia and the SMPTE DCP transition
If you have been keeping a close eye on the DCPs you have been utilising in Australia over the last few months, you would have already noticed that SMPTE DCPs are already being distributed to most cinemas in Australia. This does not, however, mean that Australia has been certified as SMPTE DCP ready.
Many SCREEN MANAGEMENT SYSTEMs (SMS) or DCP-players will, in general, play SMPTE DCPs, however, will they support all the required features? This is where the EDCF/ISDCF certification process comes into play. Please see "The SMPTE DCP Migration Project" at https://www.smptedcp.com/
As an example of what still needs to be certified: do all audio channels play correctly? Do the subtitles appear at the right time and position? Does the DCI-Player support 24 AND 25 fps playback? All these issues must be tested and flagged into the SMPTE DCP certification database before a country can be called SMPTE DCP compliant.
For an up to date tracking of Australia's transition please see: https://www.smptedcp.com/status/oceania/australia-and-new-zealand
To achieve this certification, exhibitors play a test DCP to determine if it performs as expected. If something unexpected happens, the exhibitor should first check the SMPTEDCP.com website troubleshooting pages before going back to the integrator and have them rectify the problems. Otherwise a website is used to report your current SMPTE DCP playback status.
Australia is on the back foot - Current Exhibitor certification levels.
Unfortunately, although many integrators have known about this process and industry-wide push, Australia is very much on the back foot, far behind many countries. To help with this, SCO has started to lead the way by implementing this test in 11 cinemas. As expected, all have passed with no issues. SCO is now encouraging other smaller cinemas to take the steps needed to gain SMPTE DCP certification.
You have two options.
Approach your integrator and ask them to start this process.
Utilise SCO and its certification path.
SCO recommends starting with us and deferring to your integrator if issues occur as this is likely the more cost effective route. To utilise SCO assistance in SMPTE DCP certification, please follow this procedure:
Go to the following website https://results.smptedcp.com/australia to download the TEST DCP.
Watch the Video on the website above as an example of what should be seen when playing the test DCPs.
Send SCO your DCRF (Digital Cinema Readiness Form) that holds details about your screens. Also send the DCI-player public certificates (if you have them. We can dig them up based on the DCRF data, however, that is not always the case, please send them if possible).
After a few days, SCO will send back the KDMs to allow the test DCPs to play on your screens.
Review the test DCP in each screen. (24, 25 fps, both with and without ATMOS) 4 version in total.
If any issues occur, please raise this issue with the integrator who installed the equipment. Have it rectified and return to the certification process.
Go back to the https://results.smptedcp.com/australia webpage, and click on the "Result Form" button, and fill out the form for you cinema. NOTE: As long as you can play the 24fps - NON ATMOS version of the file, you are considered compliant, however, if issues do occur with other files, this detail must be supplied when filling out the form. (For example, older series 1 projectors are known to only support 24fps with certain vendor DCI-Players)
YOU'RE DONE. EDCF/ISDCF thanks you for your time.
Advantages to exhibitor with SMPTE DCPs
As an exhibitor, the advantages are not very apparent. Much of the transition to SMPTE DCP is to allow more capabilities, different frame rates, less conformance issues, more reliability etc. The biggest change to effect exhibitors is the implementation of "Extended Metadata". In effect, much of the CPL-Naming-convention, with all the abbreviation in the CPL name, are now also held in the CPL in FULL TEXT. This also includes credit offsets.
This will greatly reduce human error issues due to abbreviations in movie names, or entering incorrect values such as the credit offset timecode. This will allow more automation (less time creating playlists etc) and better representation of CPL data to the user.
The only catch here is that such features are yet to materialise as vendors can only now implement these new features now SMPTE DCP is prolific. So expect these new features in DCI-player upgrades in the future.
Distributors have higher compliance level
In general, there are many advantages to distributors when it comes to SMPTE DCP. Some of these are:
Support for different frame rates. (No more converting non 24 fps content, that can compromise the image quality or timing)
More reliable authoring tools making DCPs less likely to have playback issues.
More features such as ATMOS, and IAB (Immersive Audio Bitstream) 3D Audio support.
Better metadata support reducing human error in programming the screens.
The extended metadata will need to be clarified and reviewed before distribution. This will mean more care and time may need to be spent on making sure the metadata is correct and in place before the DCP can be cooked for distribution. This may appear quite trivial, but I have seen many DCPs rushed towards the end with errors occuring. With more options to fill out, more effort and more errors may occur.
With cinemas moving to more automation, it is very important that the extended metadata is error-free.
Standards compliance is not distribution certification
One of the biggest pitfalls for smaller distributors is that, just because a DCP worked in the local cinema does not make it suitable for wide distribution.
You may have a well formed and certified SMPTE DCP, however, this does not mean it will work in every combination of DCI-Player and projector in the world. Specialised distribution entities exist to add an extra level of certification that will reduce the risk of a DCP failing to play in certain parts of the world.
SMPTE DCP has introduced a very big issue when it comes to this understanding. SMPTE DCP supports many different frame rates. However, only a certain percentage of locations may support frame rates other than 24fps. These issues must be well understood by any distributor that is going for wide release. Some markets are well placed to play back any frame rate, others, such as Australia that still has a reasonable level of series 1 projectors still in use, are not. (However, it must be mentioned, arthouse circuits know this and typically have upgraded to archive multi frame rate support as is required for arthouse content.)
Another example of a pitfall is that many smaller distributor may adopt an Indie film that is taking off. Indie producers typically utilise a SINGLE REEL DCP. This is type of DCP is compliant however, if going for a wide release and captions are needed, SINGLE REEL DCP require a CAPTION data file that is too big to fit into many personal caption solutions in use around the world. Single REEL DCPs will fail distribution certification tests and must be split into reels. This can be an expensive exercise.
These are only a few examples as to why, even though you may have created a SMPTE DCP, there is no guarantee it will work everywhere. However, it is far far more likely to work in more places now than when using Interop DCP.
FREE CRU-DX115 DC removable hard drive carrier GIVEAWAY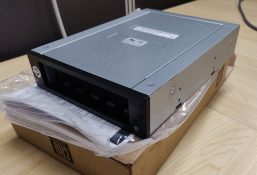 CRU internal unit, no SLED
Finishing Room, a DCP specialised mastering facility has made available numerous internal CRU drive units for the SCO community. THIS DOES NOT INCLUDE THE Hard-Drive-SLED. ONLY THE UNIT THAT YOU INSTALL INTO YOUR COMPUTER IS AVAILABLE.
Limit of 3 units per cinemas, available until stock runs out.
As we move to Digital Distribution, the usefulness of CRU hard drives will diminish. However, cinemas will still be expected to read these drives for many years to come. Having a CRU-enclosure will be required. It is expected that many exhibitors have units that are reaching end of life as they are only rated at a limited number of inserts.
To get some units, please contact SCO with the number you require. It will then be made available for pickup. Shiping must be paid by the exhibitor.
Wishing you all the best with your cinema.
James Gardiner
Founder, Small Cinema Owners Association
james.gardiner@smallcinemaowners.com.au
mob: 0412997011